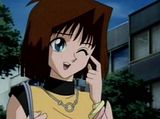 This woman is the big bad of 5Ds.

(This is a crack theory and intentionally written in a serious manner, please do not take it as anything more then for the lolz)



For your consideration, I present the only canon image of Yuusei's mother: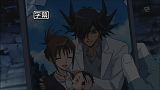 After looking at some fanart, Sethy, Drea and I decided that Yuusei's mother must be Anzu. If you notice, Anzu's face and hair are similar to this photograph of who we can only assume is Yuusei's mother. Using educated guesses based off the information presented in the program book for the 10th anniversary movie (which states Ushio in 5Ds is in fact the same Ushio that menaced Yuugi in the first chapter of the DM manga) we have concluded that Anzu would, of course, be only a few years younger then Ushio. We believe Anzu may have met Dr. Fudou in college - she may have been drawn to him because of his resemblance to Dark Yuugi. Having given up dancing, Anzu decided to pursue science along with this man she fell in love with and the result was the Yuusei Gear. After taking on Rex and Rudger Godwin, the Yuusei Gear is canonically evolved into the Momentum generator. Sometime soon after this, she becomes pregnant and gives birth to Yuusei.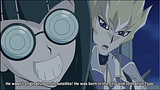 It is reveled in 5Ds 32 that Yuusei is, in fact, a resident of the city, and that his parents resided in Tops when he was an infant (see above picture). The above screencap of Yuusei with his mother and father is taken from episode 57. In 5Ds 57 we are treated to a retelling of the events leading up to the destruction of the first Momentum generator, an event named "Zero Reverse". During this retelling, we are shown Yuusei as an infant being packed away by his father inside an escape pod (for lack of a better term). During this entire sequence, Yuusei's mother is never shown. Yuusei's mother is never mentioned by anyone in the show other then Sagiri Mikage who revels Yuusei's mother was a principal developer of Momentum technology. We can thus conclude two things: (1) Yuusei's mother was not present in West Domino (later Satellite) during Zero Reverse - she was instead residing at her home in Tops, which removes her from ground zero of the earthquake that split Domino in twain; (2) There is a distinct possibility that this woman, Anzu, Yuusei's mother, is the leader of Illiaster, being that Yuusei's mother is a distinct non-entity within a universe that has been fairly good about showing us both parents of our main characters (Rua and Ruka aside, however...).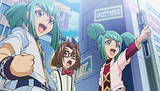 Finally, some have speculated that the character pictured above center (Hayano Tenpei) is the son of Anzu. If Fudou Anzu survived Zero Reverse and continued to live in Tops, she may have remarried and given birth to Tenpei a few years after Zero Reverse. Tenpei is age 11 at the time he appears, Yuusei is age 18 at the same time. This seven-year difference would have perhaps been enough time for Anzu to mourn the loss of her family, remarry and give birth to another child. Tenpei's mother is never shown, and Tenpei is friends with Rua and Ruka who, in 5Ds 13, find Yuusei and bring Yuusei into their apartment. Tenpei is thus Yuusei's half-brother.

Now, as for Anzu as the leader of Illiaster. Illiaster has been stated to be anti-evolution and against Synchros as a microcosm of human evolution. The canon description of Illiaster as given by Jose is as follows:

"The goal of Illiaster is to change the future and fix things that once went wrong. Illiaster is an organization created by God to correct history. It has been around since ancient times (possibly long before the time of DM) and has connections and followers all over the globe. The organization is so big, in fact, that one could not possibly grasp its magnitude. Illiaster resides at the top level of human civilization, influencing the world leaders, thereby controlling the course of events and history."

Illiaster, is in short, a secret society that decides destiny and controls the fate of the world by controlling the world's most powerful people. Momentum was a mistake in human history that should have never happened. Illiaster tries to correct this mistake by taking control of Rudger Godwin in hopes of wiping out the Crimson Dragon/Earthbound God threat in one fell swoop. This maneuver only served to kickstart the war between the Crimson Dragon and Earthbound Gods as Rudger unexpectedly severed his left arm as opposed to letting the war rage inside his body. As Rex was tapped by Illiaster at his most vulnerable time (following a devastating crash that resulted in the loss of his own left arm), so may have Anzu been tapped in order to curtail the threat of Momentum by means as of yet unknown to us. Also if you look back to the earlier chapters of DM, you'll see thematic use of Anzu being blinded and mind-controlled. Anzu's personality is such that she is the kind of person who is engaging and who makes a good figurehead. Illiaster has a proven habit of taking people in dire circumstances, and raising them up on a platform to be adored by the common people - controlling the most powerful people in order to control the masses. Thus placing Anzu in a delicate position as the apparent leader of Illiaster wherein her very appearance dictates the minds and actions of Yuusei and the rest of the Signers.

Anzu was the would-be girlfriend of the two main protagonists of DM, the mother of the main character of 5D's, the leader of Illiaster (and still is), and will be the Big Bad of 5D's. Basically she's the canon mother of everything in YGO. Even more badass than Bakura.