Howdy duty, all. I come with some information that is finally fresh and hip, this time on 5Ds. It involves a particular one-shot character from the original manga...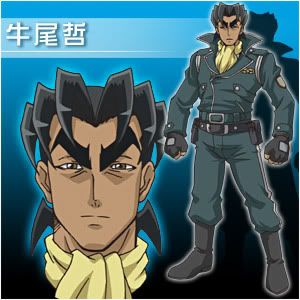 He looks a bit familiar, ne? Of course, you can also be a lamer and use mad Japanese skills to translate but honestly what's the fun in that.

Folks, I suggest you grab the first volume of the Yuugiou manga, and check out Chapter One. If you don't actually have one available to you at this time, this link might be of some use: http://img.photobucket.com/albums/v185/Atemu/ushio.jpg

http://www.tv-tokyo.co.jp/contents/yugioh5/chara/index.html
For further proof that I'm not actually a Photoshop wizard, and this is legit.
I would like to thank the good people of the Janime forums, because without my insomnia and hunting down further information on there, I would not have come upon this... gem.

Discussion: Why the flip is Ushio in 5DS and not anyone else.